RCC Unveils Pioneer Portraits in Celebration of 50th Anniversary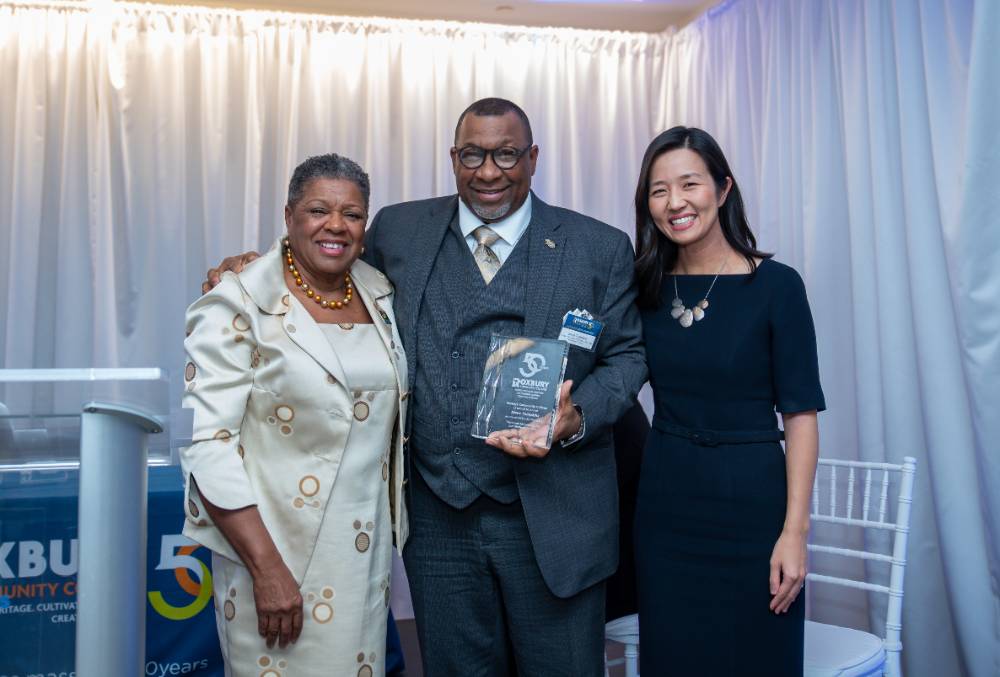 Michael Dukakis, Jean McGuire, and Byron Rushing among local community leaders attending ceremony
In recognition of its 50th Anniversary, Roxbury Community College (RCC) unveiled a series of moving portraits by renowned Boston photographer Lou Jones and RCC photographer Phuong Tang honoring the Pioneers who have significantly contributed to the College's success. The list includes 49 individuals nominated by the greater community, with the 50th Pioneer representing the collective contributions of the Greater Roxbury community. The Pioneers were chosen for their leadership, academic contributions, excellence in student support, community influence and impact, innovation and achievement, and deep commitment to RCC's values.
"The Pioneers are trailblazers who embody the values of RCC and played a leadership role in establishing and growing RCC," says Jackie Jenkins-Scott, Interim President of RCC. "I am honored to celebrate our history and our legacy, built by each pioneer, as we look forward to the next 50 years of excellence." The pioneers include notable alumni, faculty, staff members, educators, politicians, artists, community activists, journalists, and architects who have continually supported the growth and mission of RCC. Among the Pioneers are Boston political legends Mel King, the late Royal L. Bolling Sr., former Massachusetts Governor and Presidential candidate Michael Dukakis, and famous journalist Sarah-Ann Shaw.
"It is an honor and a privilege to be part of this incredible group of people who have made RCC a place where leaders are created and dreams can thrive for students of all backgrounds," says Pioneer Reverend Dr. Ray Hammond, RCC Foundation Board Chair and 50th Anniversary Committee Co-Chair. Rev. Hammond formally joined the RCC community in 2019 as chair of the RCCF; under Rev. Hammond's leadership, the RCCF has raised over $1.75 million in funding for RCC.
"As we celebrate the 50th anniversary of RCC, we remember the contributions that the 50 Pioneers have made to the College and in the whole of Roxbury. The Pioneers have created a lasting legacy through their tireless work to create new opportunities for future generations," said Sheriff Steven W. Tompkins, Chair of RCC Board of Trustees. A full list of RCC's 50 Pioneers can be found at https://www.rcc.mass.edu/50pioneers.
The Pioneers exhibit will be on display at Boston City Hall starting March 20. It will make stops at several other locations in Massachusetts throughout RCC's golden anniversary year. Other events celebrating the 50th anniversary include a Golden Jubilee Gala, Academic Symposium, Homecoming, and a Health, Wellness and Healing Forum. The Roxbury Community College Foundation (RCCF) is working towards its goal of raising $6 million throughout the 50th anniversary celebration for student scholarships, student support programs, faculty academic endeavors, and innovation. For more information about these events, visit: www.rcc.mass.edu/50years.
To view a gallery of images from the event on February 23, please visit RCC's Facebook Page.